Jenny – When I first started with MK Fitbody Bootcamp, I couldn't even keep up with the warm up, I was so unfit an not use to exercise that I actually felt sick after one session, that first week was so tough… But now nearly 2 years on, I feel fitter then I have ever been, I've lost body fat an gained muscle an lost a total of 1st an 7lbs in weight an I'm still enjoying it every week… Thanks to Bootcamp, the trainers an other Bootcampers for getting me fit an healthy again!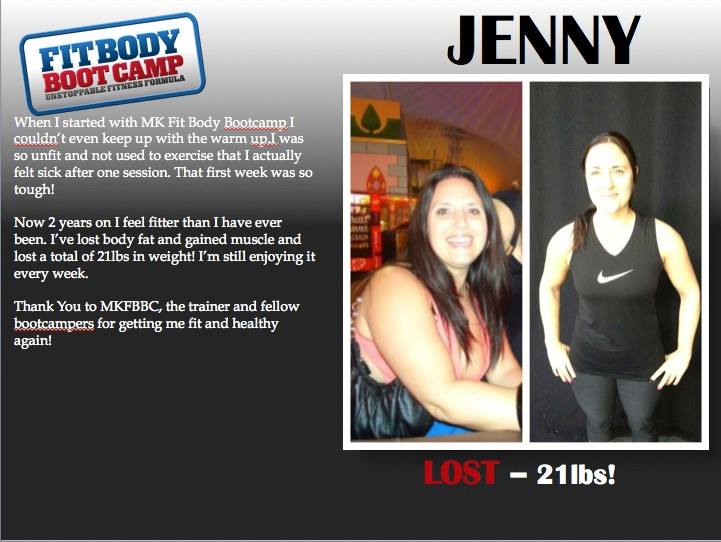 Cathy- 
I joined bootcamp in 2011 and thought that by attending 3 sessions a week this would be enough to help me loose weight.  What happened was I got fitter and stronger but still struggled with actually loosing weight. It wasn't until I became determined to loose weight for my Gambian holiday in February 2013 that I realised how much I had been in denial with regards to my eating habits. I started to listen and take on board all of Neil and Helen's nutritional advice and changed my diet completely.  It was a diet I could manage and live with and within 2-3 weeks I saw amazing results that I thought I would never achieve in months! My fitness levels rose and I seemed to have bags of energy that I lacked before.  I achieved my holiday goal and I went to Gambia very happy and confident enough to walk about in a bikini. Joining bootcamp is one of the best things I have ever done and can't imagine it not being a part of my life.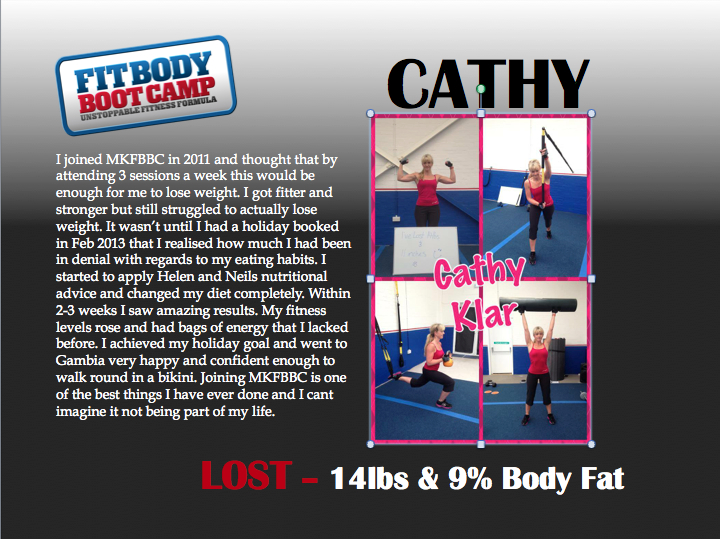 Bex-
Hi Im Bex and I have been a member of mkffbc for over 2 years and here is why…. 5 reasons why I <3 mk fit body bootcamp
1. Trainers – yes I love my shoes 🙂 but more so I love the bootcamp Traines. They are all very inspiring people full of energy and are dedicated to helping others! After spending 10 seconds with them you will see what I mean 😉
2. Members – being a member of bootcamp is like being part of a very large family, we work hard and play harder! I have made some good friends supporting each other to achieve our goals, even at 6.30am!!
3. Achievements – I have been a member of mkfbbc since day 1 and have not only improved my overall health and fitness but have also run a marathon with my bootcamp buddies. We ran, trained, sweated, hurt and ran some more! I never would have dreamed of running 5k before i started at bootcamp, and now I run regularly and actually enjoy it!
4. Charity – mkfbbc regularly supports local charities, this is something i am passionate about. I have had the opportunity to attend some very fancy balls and even did a sky dive. All for a good cause! 🙂
5. Unstoppable fitness formula – it does exactly what it says on the tin, (or poster!) I have come to realize over the past 2 years fitness is a way of life. With the help of the bootcamp instructors my diet and fitness regime has changed for the better and I have definitely noticed the difference.
This is why I am a bootcamp member and look forward to the next challenge put in front of me and my next 2 years at mk fit body bootcamp!!
Peace out…. Bex 😀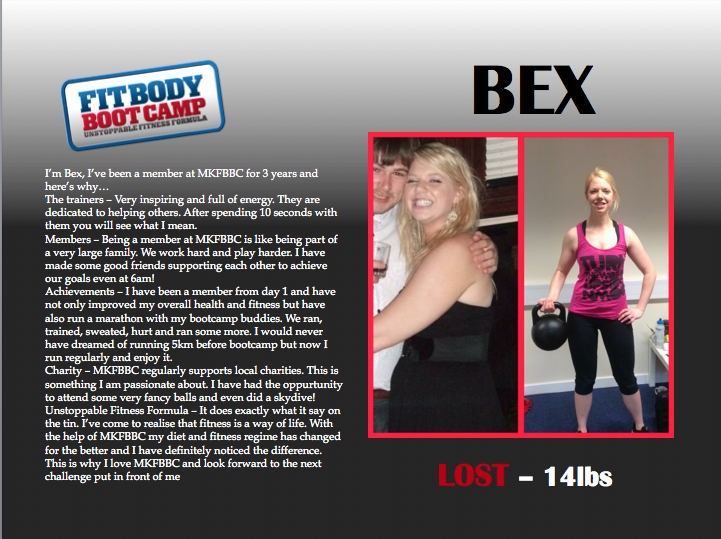 Neil G-
When I went along to MKFBBC I did not know what to expect, I felt unsure about what I was doing, something completley different to going to the gym. I did not need to worry, I felt welcomed from the word go and now just over 18 months later it is the best thing I have ever done, it has improved my health, my fitness and made me a better person. The support is always there and the trainers are always supportive and encouraging. They always take account of any injuries or restrictions that you have and will give you alternative exercises to do. Since starting at MKFBBC I have lost about 2 stone in weight, dropped my body fat by 4%, increased my muscle, lost inches from my chest, hips and waist. I can now get into trousers that I could not even do up 18 months ago. Since joining MKFBBC I have also taken up running 5K and 10K. Thanks to the continuous improvement of my fitness I have improved immensely and can now run 5K in under 28 mins, when I first started it was taking me 32 mins.
Give it a go, you will not regret it.