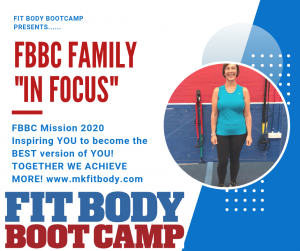 Question: How long have you been at Fit Body Milton Keynes?
Answer: 7 years from when Fit Body was a small to group to today have your own facility and having helped 1000's of people.
What are your long term goals?
 Answer: To stay fit and healthy and maintain this as a lifestyle and to continue to make small consistent progress each month.
What are your short term goals?
Answer: To drop another 7-14lbs of bodyfat and build muscle after my accident.
What have been your biggest wins at Fit Body Milton Keynes?
Answer: I've learnt to love exercise and have made some amazing friends along the way. My knowledge of nutrition is now another big win thanks to the fbbc coaching & seminars.
What are some of your current obstacles and how are you over coming them?
Answer: I'm currently injured but I am determined not to quit and adapt things until all is good!
 What does your daily nutrition look like?
 Answer: I have 3 main meals and 2 snacks following the small and often principle. Most of my meals are built around protein to aid muscle building and repair to keep my metabolism revved up to continue dropping bodyfat.
Breakfast: Protein & fruit smoothie
Mid Morning: Banana
Lunch :Chicken & Egg Salad
Mid Afternoon: Oat cakes & Whole Earth Peanut Butter
Dinner: Salmon Wholemeal Rice & Veg
Can you share a workout tip?
Answer: Don't focus on what others are doing, set small performance goals as well as fat loss goals and continually strive to just be a slightly better version of yourself each time.
Can you share a nutrition tip?
Answer: Log everything into myfitnesspal it's a game changer! Keeps you within your calories but mainly for the macros to insure you are consuming enough protein to build muscle and burn fat!
Can you share a mindset tip?
Answer: Make sure you always set mini goals as well as long term ones.  Strive for small consistent progress instead of trying to blitz it and then relapse & put the weight back on! Every time you have a negative thought just replace it with a positive one and believe in yourself & the Fit Body method.
What do you love about Fit Body Milton Keynes?
Answer: I love the members & trainers its one big happy family! The atmosphere is super friendly and coaches and extremely supportive knowledgeable and caring. You just don't find that anywhere else.
What would you say to somebody thinking about joining the fit body family?
Answer: Don't delay your start date, do it now! There is never a perfect time to start! Don't wait till Monday or for Jan. Start your journey now!